Who we are.
Lift Them Up is a 501(c)3 nonprofit that strives to alleviate the effects of post-genocidal poverty through educational sponsorships and charitable giving.
"Religion that God our Father accepts as pure and faultless is this: to look after orphans and widows
in their distress and to keep oneself from being polluted by the world." -James 1:27 (NIV)
---
Our Mission:

We are partnering with Beth Ammi Christian Fellowship Church in Rwanda to provide education, healthcare, and nutrition to over 1,000 orphans across their country, and to create a support network to empower the local church's widows.
What does that look like?
Sponsored children will be enrolled in school, they will receive health insurance, have access to a local nurse, receive school books and uniforms, be given shoes, and they will be enrolled in a meal program. We aim to encourage and equip these little ones to be successful in life and to lead their country into a better future, in Jesus' name.
It doesn't end there!
We are also developing programs to support, encourage, and equip local church widows. We want to bring hope, joy, and pride to these wonderful women and foster healthy community networks and financial independence.
---
Our Partners:
Beth Ammi Christian Fellowship Church (BCFC)
Based near the capital of Kigali, Rwanda, BCFC is a Bible-believing Christian church, of the East Africa Pentecost Association and a member of the Alliance of Churches of Rwanda Forum. They believe in God the Father, God the Son, and God the Holy Spirit; that Jesus lives and speaks today and wants the Church to not only teach His Word, but also to be His hands and feet in their local community.
BCFC has 5 Parishes located throughout Rwanda, in the cities of: Kabuga, Gahanga, Nyaruguru, Burera, and Nyamasheke. The 5th parish is newly established.
---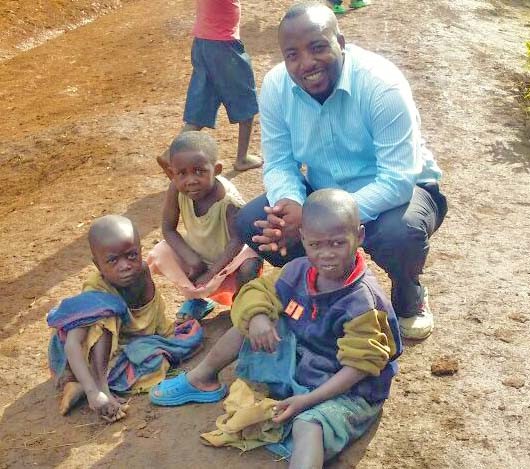 Alfred Gatabazi
Pastor Alfred Gatabazi is the Senior Pastor and Founder of Beth Ammi Christian Fellowship Church (BCFC). Alfred was born in Democratic Republic of Congo (DRC) in 1977, but moved to Rwanda shortly after and has lived his life there, with his wife and children.
Alfred was a Regional Manager for World Vision and has experience in education sponsorship programs. He has a good network of support within Rwanda and provides training and oversight for the church staff, who are the boots on the ground for the project with Lift Them Up.
Alfred and his wife have a heart for helping local orphans and widows and they've been given a clear mandate from the Lord Jesus Christ to pioneer the Church in Rwanda. The Lord called Alfred to help people who had lost their faith and hope of finding restoration in Jesus; to preach reconciliation and forgiveness in his country, where many people's hearts grew cold after the suffering and atrocities of the 1994 genocide; and especially to reconcile families through forgiveness, to have hope for a future in this life and the next.
---
Claude Mugabe
Claude Mugabe is the Project Manager for the work that BCFC is doing in partnership with Lift Them Up. He is a man of great vision and has a heart to see lives changed by the transforming power of hope in Jesus.
Because of the Rwandan genocide, many families found themselves unable to meet the most basic needs of their children. Claude's family was one of them. But he was fortunate and after a time, he got enrolled into a sponsorship program. With the international support that he received, he was able to attend school from Primary School (Grade School), through Secondary School (High School), and on through University studies.
Claude holds a Bachelor's Degree in Finance and Business Administration from Rwanda National University and a Leadership Skills Certificate from Compassion International's Leadership Development Program.
After experiencing the life-changing difference that a sponsorship can make, Claude is now giving back to the children in his community. He loves to sing for them, make them laugh and smile, and help them financially when he can because he knows how very important it is.
His passion is getting all of the orphans and vulnerable children in his community placed into a sponsorship program and seeing their lives and cities transformed. His happiness will be to see his vision and mission of changing people's life being successful.